Click HERE to see VIDEO 1 of 3
Click HERE to see VIDEO 2 of 3
What is Annual Fund?
Annual Fund is Topeka Collegiate's yearly campaign to raise funds for virtually every aspect of our school. All independent schools are faced with the same need - to make up the difference or "the gap" between costs and tuition. In our case, tuition only covers about 70%.
This year's Annual Fund theme is Soaring to Success. Imagine. Inspire. Invest. Check back weekly to view our series of three Annual Fund Videos.
Zap the Gap
Tuition alone does not cover the cost of educating our students. The Annual Fund helps "zap the gap" between tuition dollars and our operating budget. At Topeka Collegiate, there is a $2,362 gap per student.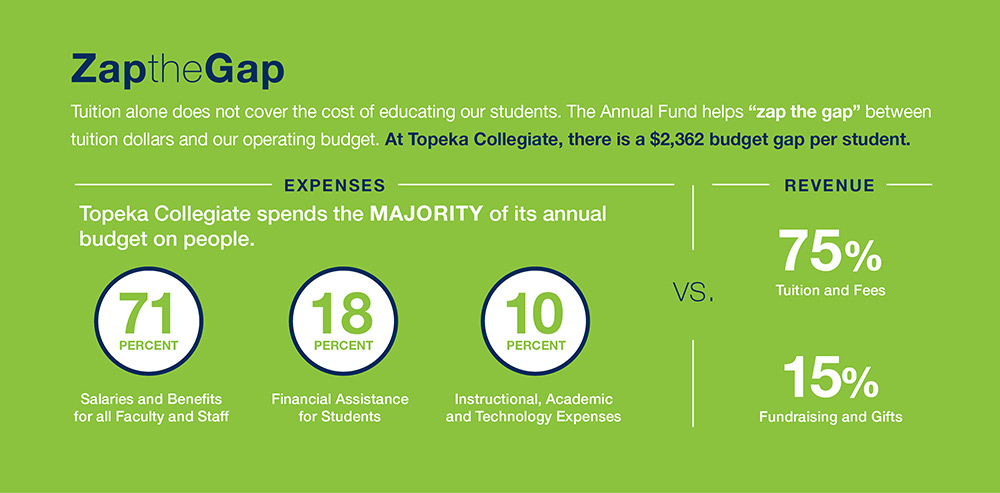 Why Give to Annual Fund?
Your Annual Fund contributions directly impact our entire school community. Your gift helps us recruit and retain the most dedicated and inspiring teachers, sustain strong financial aid policies, offer professional development, update technology and provide the highest-quality programming to our students.
Unlike tuition, gifts to the Annual Fund are 100% tax deductible.