Annual Fund is a way that Independent Schools across the country can meet their operational budgets while keeping tuition affordable for families.
Topeka Collegiate's Annual Fund campaign raises funds for virtually every aspect of our school.

At Topeka Collegiate, our tuition covers about 73% of the cost of the education provided. This gives families, friends, and alumni an opportunity each year to contribute a tax-deductible gift to Annual Fund — a win-win for us all!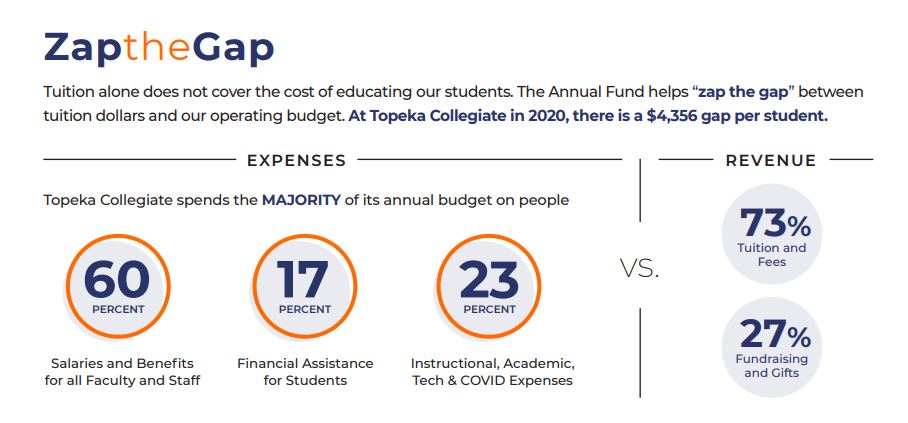 CONTRIBUTIONS
Your Annual Fund contributions directly impact our entire school community. Please fill out the pledge commitment form or generously give today! Your gift helps us recruit and retain the most dedicated and inspiring teachers, sustain strong financial aid policies, offer faculty development, update technology and provide the highest-quality programming for our students. Unlike tuition, gifts to the Annual Fund are 100% tax-deductible.
DIVERSITY
Topeka Collegiate fosters an inclusive and diverse community where each student feels known and supported. We value families who make the choice to send their children to Topeka Collegiate, knowing this choice means an investment in academic excellence, education of the whole child, and freedom to explore in a purposeful environment. Students at Topeka Collegiate are represented by all socio-economic levels, as well as race, culture, gender, and religion.
---
Topeka Collegiate
today
See you at the Celebration Auction! Mark your calendar for April 10, 2021. Please also consider donating an auction item or securing a sponsorship! Your help ensures our school raises the funds necessary to help our children to THRIVE! Forms and items are due this Friday: March 5th! Visit
https://one.bidpal.net/tcauction2021
---
Topeka Collegiate
today
Recently these middle school students qualified to participate in the Mathcounts Chapter Invitational! We couldn't head into Spring Break without wishing them a warm congratulations! Go Eagles!
---
Topeka Collegiate
1 day ago
Photos from Topeka Collegiate's post
We're participating in Read Across America Day! Teachers designated additional time for reading today. First grade teacher, Jaime Frederick, also shared this wonderful poem with her first grade students. Sharing it with you all here on FB, too! Reader's Oath I promise to read Each day and each night. I know it's the key To growing up right. I'll read to myself, I'll read to a crowd. It makes no difference If silent or loud. I'll read at my desk, At home and at school, On my bean bag or bed, By the fire or pool. Each book that I read Puts smarts in my head, 'Cause brains grow more thoughts The more they are fed. So I take this oath To make reading my way Of feeding my brain What it needs every day. --By Debra Angstead
---