Annual Fund is a way that Independent Schools across the country can meet their operational budgets while keeping tuition affordable for families.
Topeka Collegiate's Annual Fund campaign raises funds for virtually every aspect of our school.

At Topeka Collegiate, our tuition covers about 73% of the cost of the education provided. This gives families, friends, and alumni an opportunity each year to contribute a tax-deductible gift to Annual Fund — a win-win for us all!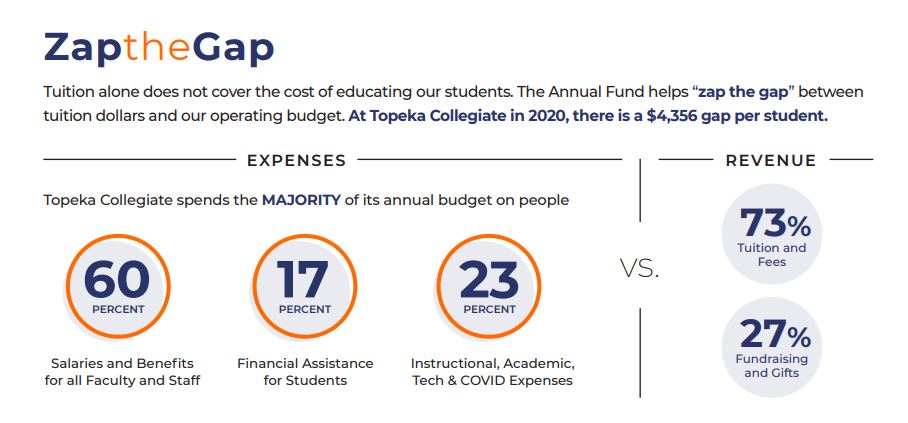 CONTRIBUTIONS
Your Annual Fund contributions directly impact our entire school community. Please fill out the pledge commitment form or generously give today! Your gift helps us recruit and retain the most dedicated and inspiring teachers, sustain strong financial aid policies, offer faculty development, update technology and provide the highest-quality programming for our students. Unlike tuition, gifts to the Annual Fund are 100% tax-deductible.
DIVERSITY
Topeka Collegiate fosters an inclusive and diverse community where each student feels known and supported. We value families who make the choice to send their children to Topeka Collegiate, knowing this choice means an investment in academic excellence, education of the whole child, and freedom to explore in a purposeful environment. Students at Topeka Collegiate are represented by all socio-economic levels, as well as race, culture, gender, and religion.
---
Topeka Collegiate
today
Topeka Collegiate's cover photo
December's core competency has taken on new meaning as we begin Modified Distance Learning today! We're committed to helping students collaborate, whether they are on campus or learning remotely. Thank you to our teachers for setting up one-on-one conversations, small group sessions, and opportunities to socialize over the lunch hour. We know these daily interactions are critical to students' success. Learn more about our core competencies here:
https://www.topekacollegiate.org/about/core-competencies.cfm
---
Topeka Collegiate
3 days ago
On this #SmallBusinessSaturday we've re-opened the Spirit Store! Turner Designs is locally-owned and is always a joy to work with! Order by December 6th and get your order within two weeks!
---
Topeka Collegiate
3 days ago
Today's #SaturdayShare is for all the parents out there! Wishing you a moment of self-care this weekend. #topekacollegiate #limitlesslearningpotential #Eagles360
---