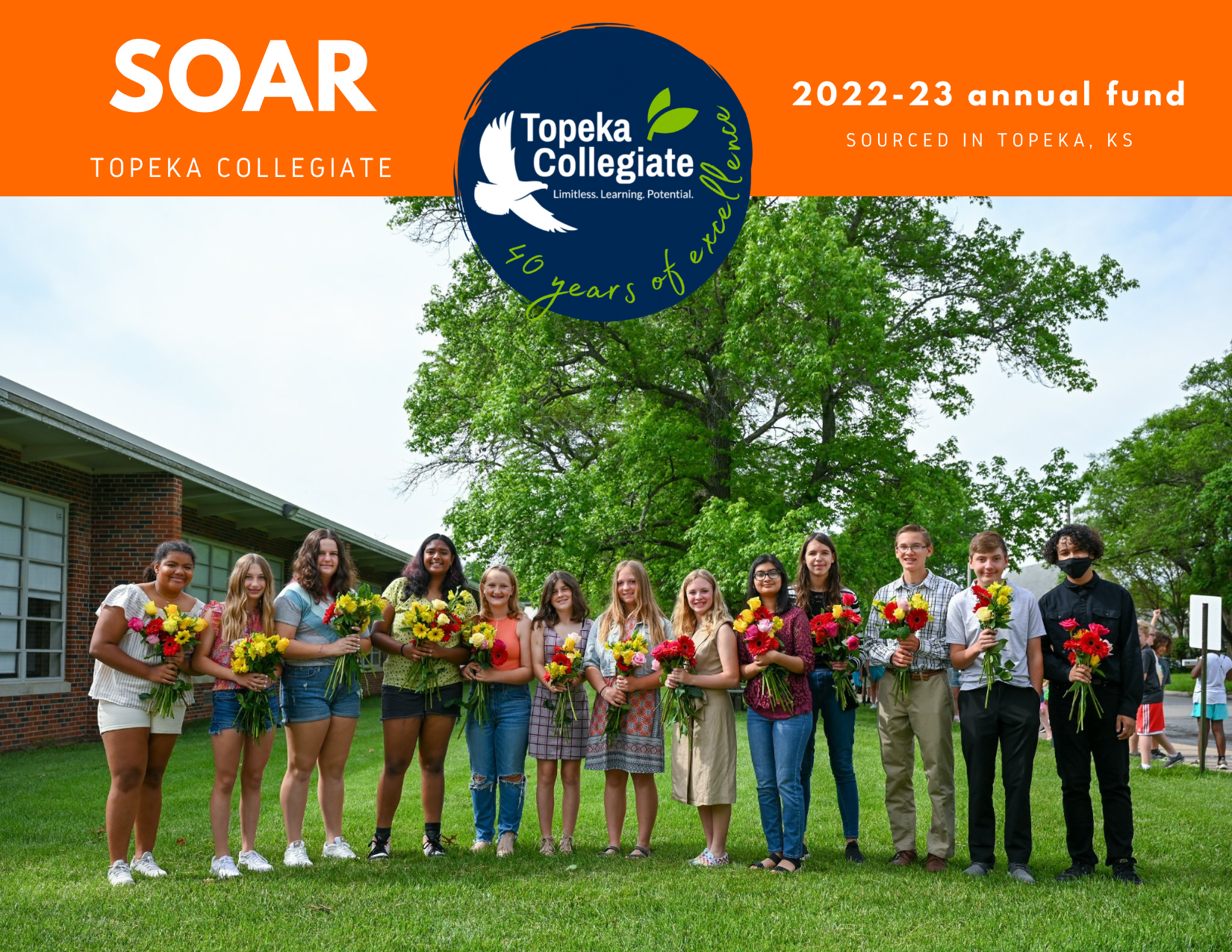 ANNUAL FUND

Fundraising at Topeka Collegiate School begins with the Annual Fund in the fall. This is considered our "greatest need" fund, and is used to close the gap between the cost of tuition and the expense of operations and financial aid. Our school is committed to a generous financial aid program designed to attract a wide range of students. We believe that the entire community is enriched by social and economic diversity. Over forty percent of our students receive some level of financial aid. We strongly encourage you to make a commitment to Annual Fund with what is – for your family – a meaningful gift.
From our 2022-2023 Annual Fund Co-Chairs

Dear Eagle Families,
The 2022-2023 academic calendar at Topeka Collegiate is in full swing, and we have already reached the month of October, which means it's Annual Fund time once again! It is our pleasure to introduce this year's campaign, "Soar".

When we think of "Soar," several things come to mind in association with Topeka Collegiate. We think of the heights that our children reach based on the high standards of academic excellence that our school offers. We also think of the great things that our Eagles accomplish after they graduate as they "Soar" into their local communities as leaders and critical thinkers.

As an independent school, tuition covers most, but not all, of the cost of educating our children. Therefore, we must raise funds in support of the daily operating budget to bridge that gap. This is why we are launching "Soar," even as we embark upon the Sustain Campaign, which was announced September 17. It has been said that the "Sustain Campaign is a dollar goal up against a deadline." Comparatively, Annual Fund provides the enduring stability and support our school needs to operate and serve our kids on a daily and annual basis. As good financial stewards, we have an obligation to ensure that Annual Fund succeeds this year, as it does every year, thanks to the generosity of this school community.

Beginning October 7, you will find weekly update letters in your child's Friday Folder. We encourage you to help your child's class reach 100% participation. If you have donated to Annual Fund previously, we ask you to consider meeting or exceeding that amount. Don't remember what you gave? Click here to receive an email reminder. As is always the case with Annual Fund donations, you can pay right away or over time. Your gift is 100% tax-deductible. As an added incentive, the first 50 families to pledge or donate will be put in a drawing for an entire month's free reserved parking near the Eagle Foyer entrance!
Please consider helping the children of Topeka Collegiate, as we launch this year's Annual Fund campaign, "Soar".

Sincerely,
Grady and Lizzi
(Liam, 5th; Emery, 3rd)
2022-2023 Annual Fund Co-Chairs