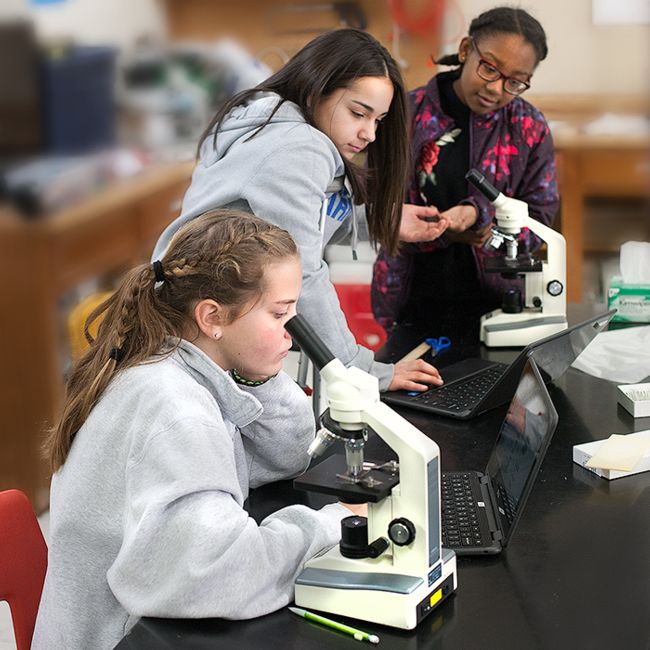 We are a college preparatory school with a nearly 40-year history of remarkable student achievement. Our curriculum is challenging and designed to provide a strong preparation for high school and college.
Skilled, committed, empathetic teachers engage students in small learning groups. We know all children are uniquely gifted. We take the time to find out what makes each child excited about learning, and to accommodate each student's interests, strengths, and pace of learning.
By the time they graduate, our students are ready to take their places as leaders — critical thinkers, innovators, collaborators and humanitarians — equipped with the skills they will need not just for their next educational step, but for successful lives as global citizens.
We focus on the development of children from prekindergarten through eighth grade in three divisions:
Early Childhood - Prekindergarten through 1st Grade
Lower School - 2nd Grade through 5th Grade
Middle School - 6th through 8th Grade

Click the links below to read the Curriculum Highlight on Academic Excellence.

October 1, 2021- Kansas Museum of History Walking Tour (Kindergarten)
October 15, 2021- Rock Springs Ranch (7th Grade)
October 29, 2021- La Comunidad Exhibit (Middle School)
November 12, 2021- Collaborative QR Codes (Early Childhood and Middle School)
December 3, 2021- Literacy at Topeka Collegiate (Library time with Mrs. Svaty)