"To be competitive right now, [students are] going to have to learn how to write well. [They are] going to have to learn how to analyze problems, and…to learn how to communicate and work well with other people, but also [feel] confident in [their] ability to work independently. Those are all skills I can trace back to my time at Collegiate." - Jordan, alumna
Parents and Alumni
Parents
If you are a mother, father or guardian of a TCS student, you are already a valued member of the Parent Association (PA) and we encourage your active participation.
The goals of the Parent Association are to support the school in cooperation with the school leadership and faculty, promote the school community, facilitate communication between parents and guardians and the school and express parent appreciation to the faculty.
It's hard to imagine a more powerful team than school and parents working together for the good of children. That's why serving as a parent volunteer is so vital to enriching your child's education. To volunteer for school activities, contact a member of school leadership or complete the form below.
Alumni
"Fly like an eagle. Follow your fancy. Soar on the wings of destiny."
Now more than 900 strong, Topeka Collegiate alumni are following their fancies, living and working throughout the United States.
They are critical thinkers, leaders in business and public policy, innovators, entrepreneurs, engineers and artists, humanitarians, compassionate physicians and educators, communicators, artists and performers. They are lifelong learners and responsible global citizens.
Topeka Collegiate alumni are members of our school family and forever part of our community. Wherever they soar in search of their destinies, they are always welcome at TCS.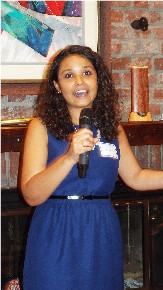 "Whether it's how to manage your time or take notes on someone's lecture or synthesize a lot of material, the study skills we learned at Topeka Collegiate have been so useful for me in high school and college and now in law school. I think it gives our students a huge advantage in whatever they end up pursuing." Jordan Carter '03