We believe that students in middle school are capable of enormous social, emotional, and intellectual growth. Our middle school provides a stimulating academic curriculum and appropriate structures for support. This combination enables students to develop good study habits, intellectual curiosity, responsibility for self and others, and leadership skills. Students learn critical thinking and communication skills across the curriculum, in language arts, mathematics, science, social studies, world languages, and leadership courses.
The core curriculum is complemented by visual arts, music, computer skills, physical education, and a twice-weekly electives curriculum that allows students to explore topics of interest, from competition in science fair to photography. Experiential learning is at the core of our middle school teaching philosophy, and extends beyond the classroom for special events, such as the trip to Heifer International's Global Village, or Sea Camp in the Florida Keys. Our middle school program emphasizes learning that is rigorous and relevant, preparing students exceptionally well for high school and beyond.
"I'm most grateful to Topeka Collegiate for giving me tools which have enabled me to keep learning on my own ever since I graduated."
-- Alum
Middle School Handbook 2017-2018
Middle School Supply List 2017-2018
Middle School Scholarship Flyer 2018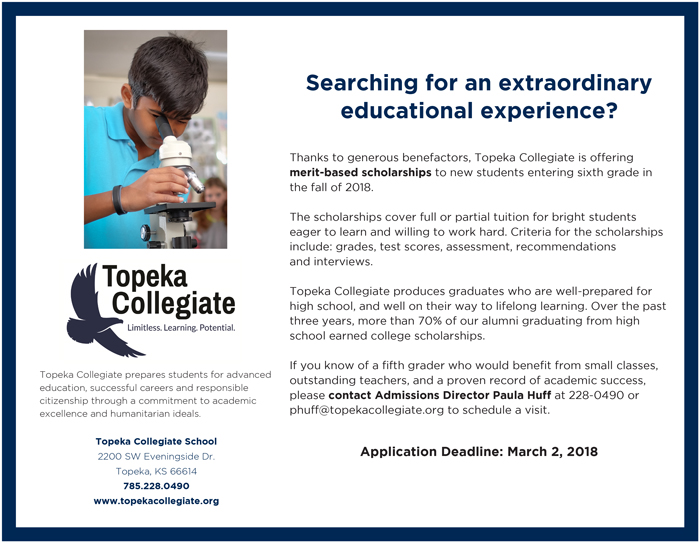 New: Merit-based scholarships are now available to incoming middle school students. For more information, click HERE.